Súlur
is a 1213 meter high mountain south of the city Akureyri on northern Iceland.
I have a special memory here since I celebrated my 50th anniversary on the summit with champagne ! Celebrating my 60th anniversay is too late now but my wife still could and hopefully will !!
You walk from the car park, where the meeting point for the walk is, following Hliðarfjallsvegur almost to the end, to the municipal city dump.
Depending on your fitness it takes 2-4 hours to climb the summit raising 880 meters and 5 km. Some people even run up in less than an hour.....
Depending on snow conditions during winter more or less of the last 1-300 meters in height are snow covered. Walking sticks are a good option here due to slant snow covered parts close to the summit.
Considder that you loose around 0,7 degrees C for every 100m in height resulting in 8 degress lower temperature at the summit than down in Akureyri !!! That it can be windy at the summit goes without saying !! Dress in an appropriate way !! 
For those who also want to walk to the southern summit on the ridge this is an option. Last part can be icy and a bit steep so take care.
Plan for a small picnic at the summit where you can enjoy some fantastic views. From Herðubreið in the east to Vatnajökull in the south and the Fjörður mountains out Eyjafjörður in the north.
I have placed two caches on different summits of Súlur.
Súlur map with northern summit marked with an A :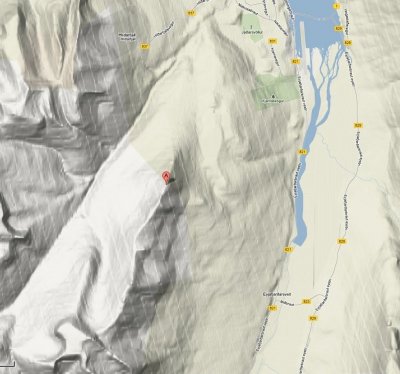 Akureyri mini sightseeing
After or before the walk is accomplished, depending on when/if there is a clear sky,  a small tour in Akureyri could take place too. There are  several interesting places to visit beside the few caches around.
Lystigarðurinn is one of them. This is one of the worlds most northern situated botanical gardens with more than 6000 different alien plants and trees and more than 400 native. This is a must to visit when visiting Akureyri. There is also a café in the garden for those who just want to sit and calm down.